Welcome to the Perth Chess Club

The Perth Chess Club meets Wednesdays from 7pm at the North Woodvale Primary School, 4 Chichester Drive, corner of Trappers Drive, Woodvale. Information about the club, including a map of its location, is available on the <Club Info> page.
For further information contact the President, Fred Maris on phone 0457 573 879. The <FIDE Laws of Chess 2018> are available for viewing by following the link.
It is recommended that you <refresh your browser> to ensure it has loaded the latest page. If that doesn't work, you may need to <clear your browser's cache>. If there is any doubt that you are looking at the latest page, check it with a different browser, such as Firefox, Internet Explorer or a smartphone.
March 2018 Ratings
The March 2018 ACF (Australian Chess Federation) and December 2017 FIDE (International Chess Federation) ratings are on the <Ratings> page. As well as ACF ratings, this shows members with FIDE ratings and those progressing towards gaining a FIDE rating. To gain a FIDE rating a player must have played a minimum of 5 games against FIDE rated opponents in FIDE rated tournaments and scored at least a half point in those games (FIDE Ratings Regulations 7).
2018 Perth Club Championship
This 7 rounds, FIDE rated, Swiss tournament, which runs from Wednesday 7 March through to 18 April, is underway. Results for round 1 and provisional pairings for round 2 are on the Results page: <2018 Perth Club Championship>. Being a Swiss, the pairings are provisional only, due to player uncertainty. This includes byes, so if your pairing shows you have a bye, please contact Fred Maris (see below) before you decide to not show up. Being FIDE rated, all games in each round must be completed before the start of the next round, so there will be no catch up night. The time control is 70 minutes plus 30 seconds per move. The Director of Play is Rob Maris. Enquiries to him phone 0434 018 624 or email <rob.maris@perthchessclub.org.au>. If you cannot play your scheduled game, please let Fred Maris know (tel. 0457 573 879 or email <fred.maris@perthchessclub.org.au>).
Chess coaching
Free chess coaching by Steve Jones continues from 6:45 pm sharp to no later than 7:15 on Wednesdays. We are working through Grandmaster Alexander Kotov's "Play Like a Grandmaster," focusing on "Planning." The book can be downloaded free as a PDF at <Play Like a Grandmaster>. Non-members are welcome, although it is expected that after a few weeks, non-members attending the coaching sessions will become members. If you wish to attend these coaching sessions please contact Steve Jones, tel. 0417 976 872 or email <steve.jones@perthchessclub.org.au>. This coaching is for adults. For juniors see the Kingsley Juniors Chess Club at the foot of this page, and/or contact the Chess Association of WA President Alan Wolstencroft, phone 9446 5282 or email <alan.wolstencroft@perthchessclub.org.au> for alternative junior coaching options.
2018 Club Calendar
Both the PDF version of the <2018 Perth Chess Club Calendar> and the web version <2018 Perth Chess Club Calendar> are now online.
Links
The <Links> page has been updated.
FIDE Laws of Chess 2018 update
There has been a FIDE (International Chess Federation) Laws of Chess update, taking effect from 1 January 2018. To view click on the link above or its copy here: <FIDE Laws of Chess 2018>.
Perth Chess Club rules for formal games
The "<Perth Chess Club rules for formal games>" PDF has been updated to include: "6) If your opponent makes an illegal move and presses the clock, it is usually reasonable to point this out to your opponent and press the clock (so you gain the increment time, ie. 30 seconds). Alternatively, you do have the option of stopping the clock and summoning the DOP who will award you an extra 2 minutes (FIDE Article 7)." These rules apply to all Perth Chess Club games (rated and unrated), except casual games."
Library
If all outstanding books (i.e. borrowed for longer than 2 months), could be returned, this would be greatly appreciated. As would donations of any algebraic notation chess books in good condition. Steve Jones, Librarian.
2018 Six Player Divisions
This rated, 5 rounds, 60 minutes plus 30 seconds per move, tournament, which ran from Jan 17, 24, Feb 7, 14, 21*, 28 (* catch up) is completed. Final results are on the Results page: <Division A>, <Division B>, <Division C> and <Division D>. Placegetters were: "A" - 1st Derwent Maggs, 5/5; 2nd Rob Maris, 4/5; = 3rd Ned Tomic & Juan Rodriguez, 2/5. "B" - 1st Robin Shaw, 4/5; 2nd Alex Janceski, 3.5/5; 3rd Alan Wolstencroft, 3/5. "C" - 1st David Barry, 5/5; 2nd David Hounsome, 3.5/5; 3rd John Brooke, 2.5/5. "D" - 1st Marcel Salgardo, 5/5; 2nd Jarvis Wileman, 4/5; = 3rd Gordon Lucas, Geoff Owen, Brian Overste & Lindsay Bordas, 3/5.
2018 Rapid Play
This free, unrated, 25 mins each, 3 rounds, 4 player divisions, tournament for those not playing a Six Player Divisions catch up game has concluded. The following is the report of the Director of Play, Rob Maris: "It was a very good turn-out last night with 12 members playing rated games (so no forfeits so far!), plus 18 players that had 3 games at 25 mins each last night and a couple of casual players. The 18 players were split into 4 groups, the players were well-matched with no-one winning all three games!: "A" Derek, Rob, Ross =1st 2 points, Alan 4th 0 points. "B" Bob, Brian G, Fred =1st 2 points, Vic 4th 0 points. "C" David H, John Brooke = 1st 2 points, Marcel 3rd 1.5 points, Tom 4th 0.5 points. "D" Brian O, Darren, Xin, Yibo =1st 2 points, Ernest 5th 1 point, Mike 6th 0 points."
2018 Open Lightning
This free, unrated, 7 rounds lightning Swiss tournament, open to members and non-members, was played on 31 January. The time control was 5 minutes each. The Director of Play was Steve Jones. Results are on the Results page: <2018 Open Lightning>. Placegetters were: 1st Yihe Fu (Rebo) 7/7; =2nd Juan Rodriguez, Wolfgang Leonhardt & Ross List, 5/7.
2018 CAWA Annual General Meeting
The 2018 Chess Association of WA (CAWA) AGM was held at the Perth Chess Club on 31st January. Results of the Election of Office Bearers are on the <CAWA website>.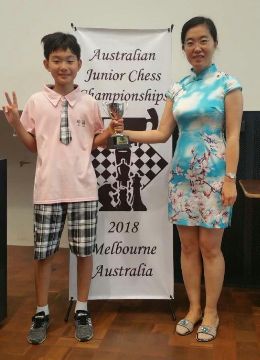 Yihe Fu (Rebo) wins 2018 Australian Junior Under 12 Championship!
Perth Chess Club's Yihe Fu (Rebo) [right with his mother] has won the Under 12 division of the 2018 Autralian Junior Chess Championship held at the Swinburne University of Technology campus in Hawthorn, Victoria from the 13th to the 21st of January. Rebo was unbeaten on 8.5/9 conceding only one draw!
2018 Four Player Divisions
This free, unrated, 3 rounds, 30 minutes each player per game, tournament in 7 divisions (!), A-G, is concluded. Placegetters by division were: "A" 1st Derek Elkington 2/3; = 2nd Steve Jones & Wolf Leonhardt 1.5/3. "B" 1st Alex Janceski 2.5/3; 2nd Ross List 1.5/3; = 3rd Robin Shaw & Alan Wolstencroft 1/3. "C" 1st Natalie Maris 2.5/3; 2nd Brian Gale 1.5/3; =3rd Fred Maris & Kuol Awang 1/3. "D" 1st John Brooke 3/3; 2nd Colin Walker 2/3; 3rd David Hounsome 1/3. "E" =1st Jack O'Reilly & Tom Browning 2/3; =3rd Justin Massam & Darren Powell 1/3. "F" 1st David Franklin 3/3, 2nd Marcelle Masque-Salgardo 2/3; 3rd Lindsay Bordas 1/3. "G" =1st Brian Overste & Craig 2/3; =3rd Mike Rennie & Gordon Lucas 1/3.
2017 Annual General Meeting
The 2017 Perth Chess Club AGM was held on Wednesday 19th July 2017. Existing office-bearers were re-elected unopposed: President - Fred Maris; Vice-President - Steve Jones; Secretary - David Hounsome; Tournaments Officer - Rob Maris; Lindsay Bordas - Publicity Officer; Steve Jones Webmaster and Librarian. The 2018 Calendar of Events was approved. Fees for 2018 were approved at the existing levels: Club membership $60, plus CAWA $20, total $80.
Kingsley Juniors Chess Club
Kingsley Junior Club meets at North Woodvale Primary School from 6.30pm to 8.30pm on Tuesdays during school terms. Contact Norbert Muller, tel. 9409 9579 or email <norbert.muller@iinet.net.au>
For any rescheduling of games or contact details for members please contact Fred Maris on tel. 0457 573 879 or email <fred.maris@perthchessclub.org.au>.